The Weather in Fred Sandback
The beings in the universe are filled, in turn, like human barometers, with the stuff of the universe. This is as true for art as it is for the irreducibly complex systems and substances that constitute the weather.
Eve Kosofsky Sedgwick: The Weather in Proust
with Eric D. Clark, Michèle Graf & Selina Grüter, Laura Kaminskaitė,
Sebastian Luetgert, Robertas Narkus, Eleni Poulou & Hilary Jeffery,
Ulla Rossek, Julia Scher, Valerie Stahl von Stromberg, Hannah Weinberger,
Ariane Müller, and Martin Ebner
curated by Ariane Müller, Audrius Pocius, and Martin Ebner
at Swallow, Vilnius Lithuania
Sept. 16 – Nov. 10 2022
online at: Swallow – website
Konsthall Kåddis at SUPERMARKET 2022
at: SUPERMARKET 2022 – Stockholm Independent Art Fair
SKHLM Skärholmen Centrum
Opening Wednesday 25 May
26-29 May 2022
22 WOMEN ARTISTS
at Stations, Berlin
April 23, 2022 – May 15, 2022 prolonged through June, 4
online at: Stations – website
visit us at Miss Read
29 of April to May 1
see also at Miss Read website
Mit Parallelität von Widersprüchen wird Komplexes missverständlicher
a group exhibition conceived by Elisa R. Linn, Sophie Reinhold and Ariane Müller
Schiefe Zähne Berlin
on view
Opens, 19th January, 2022 16:00-21:00
January 20 – February 26, 2022
ariella tai; That's the Way Lorde Goes, 2018
online at: Schiefe Zähne – website
Lesung Kunstwerke
im Rahmen von Tobias Spichtig, Die Matratzen
Kunstwerke Berlin, 21.1.2022, 20:45
Texts:
The writer's block
Written on spiders
Plastic Island revisited (Let the sun shine)
In Havana (Hunters in the snow)
Dispossession
Fotos
22.9.2021-15.1.2022
Führung durch die Ausstellung
14.1.2022, 16:00
website Künstlerhaus Wien
17.12.2021, 18:00
Veranstaltung, Künstlerhaus, Factory
Die Bedeutung selbst einer symbolischen Geste

Kunstverein München – Jahresgaben 2020
starts 4. Dezember 2020, 15 Uhr
https://shop.kunstverein-muenchen.de
Fuckers
Galerie der Stadt Schwaz
kuratiert von Jakob Kolding
opens December 2020
Linda Bilda. Amor vincit omnia
Lentos, Linz, Österreich
11.11.2020–7.2.2021
TOKAS Project Vol. 3 "Tokyo Detroit Berlin"
Period: 2020/10/10 (Sat) – 11/8 (Sun)
Tokyo Arts and Space Hongo (2-4-16 Hongo, Bunkyo-ku, Tokyo)
Organizers: Tokyo Arts and Space (Museum of Contemporary Art Tokyo, Tokyo Metropolitan Foundation
for History and Culture)
Galleries: Schiefe Zähne (Berlin), What Pipeline (Detroit), XYZcollective (Tokyo), 4649 (Tokyo)
at Conteporary art daily
Starship at ASP 27th September – visit us online
4 new Starship books
6.9.2020 at Hopscotch Berlin
16:00-20:00
Handbuch für die Reise durch Afrika, Ariane Müller, 2. Auflage, Berlin 2020
ISBN: 978-3-9817229-6-3
für Suse Weber
KALTE NADEL – 3 Handlungsgerüste
Handlungsgerüst I
"Bureau of Engraving and Printing", Fußturm des Stadtmuseums, Berlin
3.9.2020
KUNST AM BAU
Rummelsburger Landstraße 15
SA 29./ SO 30.08 (geöffnet 14-20 Uhr)
Baerenzwinger
online programme in
https://www.facebook.com/baerenzwinger.berlin/
https://www.instagram.com/baerenzwinger.berlin/
https://www.youtube.com/channel/UCgz30A2U4RL9zWOFh3EGHiQ
Walking in ice 在冰上行走
July 24th-August 20th, 2020,
XC-HuA Gallery
Potsdamer Straße 81B, 10785 Berlin
Three online events
with links to the relevant pages
and one Text
Le Bleu du Ciel, 2020, pdf
MiA Collective Art
The COVID -19 Diaries Series, Part II
May 9, 2020
8 AM – Los Angeles;11 AM – New York; 5 PM – Amsterdam/ Berlin/ Vienna; 11 PM -Beijing; 12 AM (Sunday) – Tokyo
Pirate Cinema Berlin
May 3, 2020
La reprise du travail aux usines Wonder
1968, french with english subs, 10 min, 49 mb
https://piratecinema.org/videos/reprise.mkv (just download and play in vlc or similar)
Gefilmt am 10. Juni 1968 am Eingang zur Wunder-Fabrik (Glühbirnen). Wir sehen
eine einzelne Frau, in einer grossen Ansammlung von Männern, in dem Moment, in
dem nach dem Streik der Ereignisse, Mai 68, alle wieder an die Arbeit sollen.
Die Stimme der Vernunft, verkörpert von den männlichen Funktionären des
Aufstands, weist die Frau auf die kleinen, erkämpften Zugeständnisse hin, auch
auf auf die möglichen Zugeständnisse im Hinblick auf eine unbestimmte Zukunft,
die Potenzialität, die in den Ereignissen des Streiks an sich liegt, und so
bitten sie um Vertagung und erwarten ihrerseits ein Zugeständnis, von ihr.
Sie will aber nicht. Sie will nicht zurück. Ihre "Emotionalität" angesichts
dessen, was sie "sachlich" nicht "vermitteln" kann, dass es hier, bei dieser
angeordneten Rückkehr in den Dreck der Fabrik um ihr _Leben_ geht, das sich im
Moment der Unterbrechung des Gleichen in einer völlig anderen Projektion vor
ihr aufgetan hat, auf ganz andere Formen von Produktion hin geöffnet, evtl. ja
auch auf das Gegenteil, Schluss mit der permanenten Produktion, das ist den
Männern um sie herum sichtlich unangenehm.
Kreuzberg von 8 bis 10
May 1, 2020
Ein Film von Ariane Müller und Deborah Schamoni
Two rooms, Ariane Müller & Martin Ebner
Opening: Thursday, March 5, 2020, at 6pm
Galeria da Boavista (Rua da Boavista 50, Lisboa)
Starship #19 will be presented!!!!
25.2.2020, TV-Bar, starting at 4 p.m.
Potsdamer Strasse 151
sneak preview at Kino Arsenal, Berlinale, b_books
at Potsdamer Platz, Sony centre, from 2 p.m.
Fuckers
Galerie der Stadt Schwaz
curated by Jakob Kolding
April 2020
Red Gate Gallery, open studio
10.26.2019, 23.11.2019, 28.12.2019
from 3-6 p.m.
798 Art District, Beijing
北京市朝阳区酒仙桥路2号
798艺术区院内
Jahresgabenausstellung, Münchner Kunstverein
Eröffnung 6.12.2019
7.-15.12.2019
AN
7.9. 2019 –
Opening 6.9. 2019 19:00
Schiefe Zähne
at Contemporary Art Daily
Provence at Motto
kuratiert von Patrick Armstrong
Opens 23.8.2019
The Downer at Motto
Ein Pfund Orangen
Kuratiert von Philipp Reitsam
Kunstverein Ingolstadt
28. Juni 2019 – 1. August 2019 Uhr
Opening 28/06∕2019, 19h
Kunstverein Ingolstadt
Kinder, Tiere, Greise als Sammler
in Walter Benjamin Kolleg und zusammen mit Martin Ebner
Kuratiert von Toni Hildebrandt
Universität Bern
26.-29. Juli 2019
Walter Benjamin Kolleg 2019
Kinder, Tiere, Greise als Sammler auf der Seite von Martin Ebner
Doing Deculturalization
Kuratiert von ∕ A cura di ∕ Curated by Ilse Lafer
Museion Bozen
13.4 – 3.11.2019
Opening 12 ∕ 04 ∕ 2019, 19 h
Museion Bozen
R, 2018, in Museion Bolzano, 2019 / pdf (Deutsch)
Die nahe Zukunft
Starship – eine Installation von Martin Ebner und Ariane Müller
LUX Pavillon der Volksbühne
16.3.2019 – 19.5.2019 (extended 20.6.2019)
images
Pavillon Images at facebook / Starship
Eröffnung 15.3. 2019 19:00 mit Egill Saebjornsson und Sir Henry

Starship #18
at CUT-UP / Starship (kuratiert von Nikola Dietrich) at Kölnischer Kunstverein 16.12.2018
at Very Berlin; 13.1.2019
Wider die Ideologie unserer Zeit
Ein Abend über die italienische Kunstkritikerin, Theoretikerin und Aktivistin Carla Lonzi (1931-1982)
12.1.2019
at ***sign, CIAT – Contemporary Institute for Art & Thought*******
Art Berlin / Salon — Verlörung, curated by Tenzing Barshee
27.-29. September 2018
Then I would like to make a happy end for once
Kunstverein Nürnberg
6. Juli bis 9. September 2018
Eröffnung: 5.7. 2018
Kunstverein Nürnberg
at Contemporary Art Daily
at Curt.de
Image: Reading
Forde, Geneva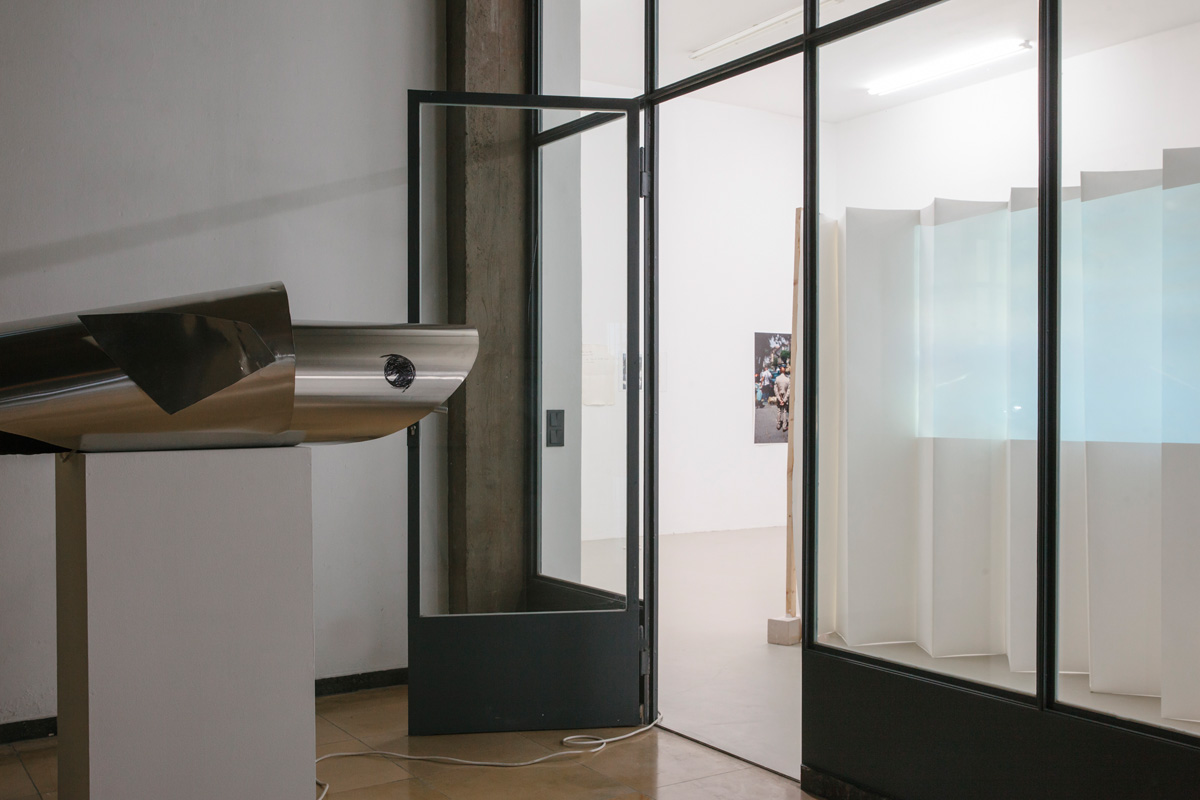 curated by Nicolas Brulhart and Sylvain Menétrey
29. June – 12. July 2018
vernissage, vendredi, 29.06.2018, 18h30
Image reading at Forde
HARSH ASTRAL – The Radiants
Halle für Kunst Lüneburg
Curated by UNITED BROTHER, Henning Bohl and Stefanie Kleefeld
26. Mai – 22. Juli 2018
Eröffnung: 25. Mai 2018, 19 Uhr
Harsh Astral at Halle für Kunst Lüneburg
at Contemporary Art Daily

Reading Marie Curie, Video (Loop), 2000, at Harsh Astral
C. R. McBerny*
organised by Andrew Hunt and Veit Laurent Kurz
on Saturday 28 April 2018
at Zwinglistrasse 4, 10555 Berlin, Germany
Exhibition by appointment from Sunday 29 April to 13 May 2018
Close to Now
Catalogue of TND and Kunstverein München in collaboration with Goethe Institut at University Settlement, New York
Edition 250
Editors: John Beeson, Daniel Herleth, Cameron Rowland
Close to Now Symposium, 2014
buy at after8books
HARSH ASTRAL – The Radiants 2
Green Tea Gallery at Galerie Francesca Pia, Zürich
Curated by UNITED BROTHER, Henning Bohl and Stefanie Kleefeld
March 24 – May 12, 2018
Opening March 23, 6-8 pm
Harsh Astral at Galerie Francesca Pia
Press Text
Harsh Astral at Contemporary Art Daily
A matter of printing (for SMC)
Supportico Lopez, Berlin
23 March – 5 May 2018
A matter of printing at Supportico Lopez
Artist' Statement, Frieze February 2018
Frieze February 2018 issue
Don Quixote
Galerie Barbara Weiss, Berlin
January 21 – March 3, 2018
Don Quixote at Barbara Weiss Galerie
Don Quixote at Barbara Weiss at Contemporary Art Daily
Sancho Panza
Oracle, Berlin
January 21 – March 4, 2018
Presented by Veit Laurent Kurz
at Oracle, Berlin
Sancho Panza at Oracle at Contemporary Art Daily